Secretes , a new East Village global tapas restaurant, has a menu that's divided between "savory" and "sweet." Chef Jordy Lavanderos (formerly of Mercer Kitchen and Vong ) spins out dishes like squid stuffed with porcini-manchego risotto and mango ravioli with mint sauce, among others. It's BYOB till the restaurant gets its liquor license in June. Secretes, 513 E. Sixth St., 212-228-2775.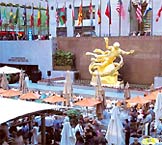 The only ice you're going to find at the Rockefeller Center ice skating rink this summer will be in your cocktail glass at the newly opened Rink Bar . The outdoor space offers nightly drink specials including $6 featured cocktails like mojitos, cosmos, daiquiris and margaritas. Crispy coconut shrimp, stone-ground guacamole, the Rink Bar's signature antipasto, and other delicious bites set the stage for the fun-filled night out of cocktailing, snacking and socializing. Rink Bar, Rockefeller Center, 20 W. 50th St. For more information, visit www.restaurantassociates.com.
The brothers behind the legendary Buddha Bar have christened a new eatery. Frederick and Laurent Lesort have recently opened Frederick's —which is a resurrection of sorts, since they ran a Midtown lounge in the '90s under the same name—focusing mostly on Med cuisine. Frederick's, 768 Madison Ave., 212-737-7300.
You no longer have to get on a plane to get to the French Quarter. Instead, restaurateur Nick Donovan is bringing it to you (or, rather, Murray Hill). Crawfish étouffée, chicken jambalaya and andouille sausage are a few of the Big Easy classics that are on the menu. French Quarter will also be serving Nola-inspired cocktails, like the Hurricane. French Quarter, 102 E. 25th St., 212-598-4555.

Relaxed Italian Fare
Aroma , a restaurant and wine bar, offers more than just good smells. The newly opened eatery serves up succulent Italian treats and wine from the top to the tip of the boot. Dishes like baked stuffed calamari with almond, shrimp, parsley and breadcrumbs; and lamb three-ways with artichokes, house-cured olives and garlic are made from scratch. Aroma, 36 E. Fourth St., 212-375-0100.
We predict the just-opened Chelsea eatery, Tre Dici , will soon be crammed with Italian cuisine lovers. Here's why: owner-executive chef Giuseppe Fanelli (formerly of Felidia , Rao's , Baldoria and Union Pacific ) brings his own distinctive palate to the plate with unique dishes like lobster salad with avocado, watermelon, lime segments, tomato, red onion and sour cream and his signature homemade pinched ravioli (deep green with the color of fresh spinach and stuffed with fresh peas, asparagus, leeks and fresh mint in a black truffle sauce). Tre Dici, 128 W. 26th St., 212-243-8183.
The prolific chef-restaurateur Jean-Georges Vongerichten is meeting up with the prolific architect Richard Meier. Perry Street , Jean-Georges' latest eatery, will be housed on the ground floor of one of Meier's new glass towers on the corner of Perry and West Streets in the West Village. It's slated to open in June.

Bobby Flay
Tex-Mex master and Food Network face Bobby Flay is back with a new restaurant. Bar Americain , an American-style brasserie, serves up thoughtfully prepared regional cuisine. Bar Americain, 152 W. 52nd St., 212-265-9700.
Don't get confused about the new Village eatery, Yumcha , which means "drink tea" in Chinese: this is no teahouse. Former Jean Georges and Spice Market chef, Angelo Sosa, cooks up various Chinese-inspired meat and vegetable dishes that are infused with tea salts. Yumcha, 29 Bedford St., 212-524-6800.
Here's the rub: Kansas City barbecue legend Paul Kirk has brought his famous 'cue to New York City. The confidently titled Righteous Urban Barbeque ( R.U.B. ) is crammed with slow-cooked delights. R.U.B., 208 W. 23rd St., 212-524-4300.
One of New Yorkers' favorite signs of spring is when Danny Meyers ' Shake Shack opens. And it recently did just that. Serving up acclaimed burgers and shakes, the Shack is located in a kiosk in Madison Square Park. Shake Shack, Madison Square Park, 212-889-6600.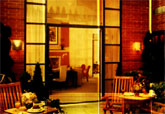 Barna
Opened recently in the chic Hotel Giraffe in Murray Hill, Barna serves up Spanish cuisine with an emphasis on the food of Catalonia. Expect dishes like saffron rice cakes with shrimp and sweet-and-sour-glazed quail. Barna, 365 Park Ave. S., 212-532-8300.
The owners of Xth Ave. Lounge and 44 & X have opened up a casual dining spot in Hell's Kitchen. 44 ½ , which, not surprisingly, is located on Tenth Avenue between 44th and 45th Streets, has eclectic offerings—from malted milk ice cream to marinated chicken. 44 ½, 626 Tenth Ave., 212-399-4450.
London chef Gordon Ramsay plans to open a small, casual restaurant inside Rihga Royal hotel at 151 W. 54th St. But fans of his three London restaurants (including the acclaimed Gordon Ramsay at Royal Hospital Road) shouldn't hold their breath: the restaurant is tentatively scheduled to open in spring 2006.
Trotter at Time Warner
At last, Charlie Trotter will make his long-awaited entrance in to the Time Warner Center. Trotter's seafood restaurant is set to swing open its doors this autumn. The name of the restaurant has not been announced.
Green Party Scene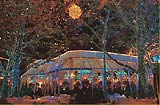 You know it's the warm weather season when Tavern on the Green 's lush garden becomes a great place to show off the dance moves you've been practicing all winter. Live entertainment, such as music acts, stand-up comedy and DJs, will be on hand to get the party started right. $10 cover charge. For more information (and a schedule of events), visit www.tavernonthegreen.com . Tavern on the Green, Central Park & W. 67th St., 212-873-3200.
Closings
Westville East , the eastside bastion of delicious hot dogs and burgers, has closed. But have no fear: the West Village version (on W. Tenth Street. at Bleecker) doesn't appear to be going anywhere.
The Upper East Side eatery Donguri (E. 83rd St.) has closed.
After less than a year, Midtown seafood Mecca, C Restaurant (304 E. 48th St.), has closed. Second Avenue in the East Village has a couple vacancies: pizzeria The Ovo (65 Second Ave.) and the Middle-Eastern eatery Rectangles (159 Second Ave.) have closed. The latter is rumored to be opening soon somewhere on the Upper East Side.
Turkish restaurants come and Turkish restaurants go. And, unfortunately, for Divane , a Hell's Kitchen eatery, it was time to go. Divane, at 888 Eighth Ave., recently shut its doors. The West Village French restaurant, Paris Commune , has moved from 411 Bleecker St. to 99 Bank St. (212-929-0509).

Chef Shuffle

Former Lespinasse culinary star, Christian Delouvrier, is now the former Alain Ducasse at the Essex House (155 W. 58th St.) culinary star. Delouvrier has been replaced by Tony Esnault who has manned the stoves at Louis XV Alain Ducasse in Monte Carlo and The Ritz-Carlton, Boston , pictured.
Chef Matthew Weingarten has left the Nolita eatery, Porcupine (20 Prince St., 212-966-8886), to pursue other ventures. His replacement has not been named.
The restaurant group MARC US recently announced that accolade-winning chef Andrew Carmellini (currently of Café Boulud , 20 E. 76th St.) has been hired to man the stoves at

an upcoming New York City restaurant.
Former Ritz-Carlton, Bachelor Gulch , chef, Stephen Trojahn , has been named the new executive chef at '21' Club (21 W. 52nd St., 212-582-7200). He takes over for Erik Blauberg.
Florentine chef Francesco Berardinelli has a new high-profile role: superstar chef-restaurateur Alain Ducasse has hired Berardinelli to man the stoves at the former Mix in New York and has even renamed the restaurant Francesco at Mix (pictured) . Francesco at Mix, 68 W. 58th St., 212-583-0300.