What's new.
WILD THINGS, YOU MAKE MY HEART SING
Wild Things: The Art of Maurice Sendak
The Jewish Museum presents "Wild Things: The Art of Maurice Sendak" in an exhibit intended for adults but appropriate for children. The show examines the work of the author and illustrator best-known for the classic children's tale, Where the Wild Things Are and will display nearly 140 of his original drawings, sketches, costumes and sets for opera and ballet from 1960-present.
In keeping with the spirit of his famed book, Where the Wild Things Are , one gallery will be decorated to replicate the bedroom of Max, the main character of the story, as his room turns into a forest where the wild things live. In fact, the wild things, according to Sendak, represent Jewish relatives from Eastern Europe. Sendak's latest work will also be featured, Brundibar , a picture book and opera created in collaboration with Tony Kushner based on a 1938 children's opera.
Various events will be staged, some for an additional fee, in collaboration with the exhibit. Of particular note is "A Sendak Spectacular Family Day" for $4 per child on May 22 and the ongoing "Screening: Maurice Sendak Films" from 5 p.m.-9 p.m. on Thursdays featuring a different music accompaniment each night, such as The Moonlighters singing songs from the 1920s and 1930s or the group Anistar performing jazz, Mediterranean and Middle Eastern music.
Where: The Jewish Museum, 1109 Fifth Ave.
When: Now-August 14, closed Saturdays and major Jewish holidays
Tickets : General admission is $12 for adults and free for children under 12

TASTES ACROSS THE CONTINENTS
June 22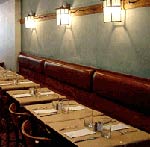 Israel Humanitarian Foundation (IHF) and their New Leadership Event Division will host the International Food & Wine Tasting Benefit . Featured international wines include vineyards from Italy, France, New Zealand and Argentina. And after all that hard work tasting wine, take a load off in the Champagne lounge hosted by Gramercy School of Wine. Munchies, of course, will be available to go with your drinks, and New York's hottest restaurants will be present with Nolita House featured. Beyond food and drink, guests will enjoy entertainment and maybe even take home some prizes raffled off. To date, IHF has funded 130 social service projects since 1960, and the proceeds from this particular event will go to underprivileged children and elderly living in Israel. The benefit begins at 7 p.m., and tickets will be $36 in advance or $45 at the door. For more information, visit www.IHF.net or call Danielle Scherman at 212-683-5676. The event takes place at Light, 125 East 54th St.